12/1/2023
How to buy a dog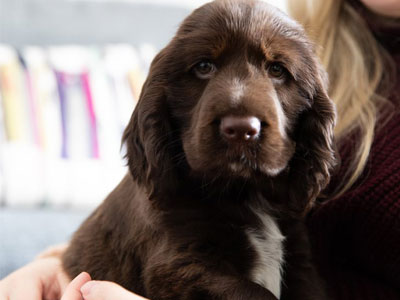 Are you ready to make the life-changing decision of buying a puppy or dog? Read more below to find out about responsible ownership and the dos and don'ts of buying a puppy.
Step 1 - finding a responsible breeder
Do your research. You can find adverts for puppies almost anywhere, but it's important to remember that if something seems too good to be true, it usually is. Good breeders don't normally need to advertise, so free ads may not be the best place to look for your new dog. You can find some useful resources below to help you make your decision:
Find a Puppy
Find a Kennel Club Assured Breeder
Breeds A-Z
Do get recommendations. Family, friends, your local veterinary practice, breed clubs and training clubs are all good places to ask for recommendations.
Go to a Kennel Club Assured Breeder if you're looking for a pedigree puppy. The Kennel Club Assured Breeder Scheme helps puppy buyers find breeders that breed to high welfare standards and are passionate about the health and welfare of dogs. Assured Breeders are all inspected by The Kennel Club and are monitored to make sure that they maintain high standards. You can search for Assured Breeders on The Kennel Club website.
Do check when unsure. You can check if a breeder is a Kennel Club Assured Breeder on The Kennel Club website.
Don't go to pet shops. It is unlikely that a caring and responsible breeder will want to sell their puppies to a third party, such as a pet shop. Responsible breeders want the chance to meet the new owners themselves to ensure the puppy will be going to a suitable home. Puppies sold in pet shops often come from puppy farms. These places tend to breed and raise puppies in poor conditions to make the most amount of profit and should be avoided at all costs.
Step 2 - contacting the breeder
We always recommend speaking to a breeder over the phone before your visit, as it allows you to ask some basic questions. You may become distracted by a cute puppy on your visit, so ask the most important questions beforehand to ensure you don't miss anything that's worth knowing.
Do expect a lot of questions from the breeder when you call them. For example, they may ask if you have children, a secure garden, any other pets and if you work full-time.
Don't be scared off by lots of questions. A breeder's questions shouldn't cause any panic as the breeder is just trying to make sure the puppy is going to the right home with caring owners and a suitable environment.
Do have a list of questions. You can find a list of questions you should ask the breeder on The Kennel Club website.
Do trust your instincts. If you have any doubts about the breeder or the advice they give you, don't visit them or pay them any money. The Kennel Club website provides more information about spotting a rouge breeder.
Don't part with any money if you're not certain. Make sure you're provided with a contract of sale and fully understand the terms before parting with any money. It's not common for a breeder to take a deposit on a puppy until they've met you. This is because they don't want to commit to letting you have the puppy until they are sure you are the right fit and would prefer to meet you in person first. They'd also not want you to feel committed to buying the puppy until you've had the chance to meet the mother along with the rest of the litter. If you're required to place a deposit on a puppy, make sure you read through and understand the terms and if it is refundable. You should always ask for a receipt of a paid deposit.
Don't agree to meet a breeder away from their home or where the puppies are being reared. No matter how plausible their reason is, you should always decline an invite from a breeder wanting to meet at a neutral location, such as a motorway service station.
Step 3 - Preparing for your visit: questions to ask when buying a puppy
First, a few tips before you meet the breeder:
Do make sure you know the recommended health screening tests for your breed.
Do ensure you've done your homework on the breed.
Do listen to any advice that the breeder offers you. If they suggest the breed you have chosen may not be the most suitable, then it is worth taking their advice. You can go to a Breed club for more information.

You can get more information on buying a dog from The Kennel Club website.
Ask the breeder:
If you can, see the puppy with its mother along with the rest of the litter. We always recommend you meet the mother and puppies so that you get the chance to see the temperament of the mother and get an indication of the future characteristics of your puppy.
If you can handle the puppies. Breeders should normally be happy for you to do this, so long as you are sitting quietly and they are sure that no harm will come to the puppy.
For a contract of sale. We always recommend that the breeder provides you with this. It should provide details of the breeder's responsibility to the puppy as well as yours. The breeder will need to ask you to sign an acknowledgement of any endorsements (restrictions) that they've placed on the puppy's records. This should be done either before the sale, or at the time of sale.
For written advice regarding feeding, exercising, training, worming and immunising your puppy.
Which vaccinations your puppy has already been given and which ones are still required?
Any other treatments the puppy has had, such as worming and flea control.
And don't forget to:
Ask for Kennel Club registration documents (if the puppy is Kennel Club registered). This must be signed on the back by your breeder. The registered owner of the dog will stay in the breeder's name and will be transferred to your name once you register the ownership of your puppy details here.
Obtain copies of any health certificates for the dam and sire for any health tests or screening schemes that the mother or father has had.
Be prepared to walk away. Some breeders may rely upon people feeling sorry for a puppy, which would make them feel obliged to buy them. This encourages the bad breeder to breed more often which causes further suffering.
Take the opportunity to see all puppies in the litter and not just the one being offered to you.
Important note
It is the responsibility of the breeder(s) to register the litter with The Kennel Club and each puppy in the litter will initially be registered in the name(s) of the breeder(s). The breeder(s) chooses the official Kennel Club names for all the puppies.
Under normal circumstances, litter registration with The Kennel Club takes about 14 days, after which time the breeder(s) will receive the registration certificates for all the puppies in the litter. If there is a query with the application The Kennel Club will contact the breeder to resolve and further action may be required which may delay the registration process).