6/1/2023
How to name your dog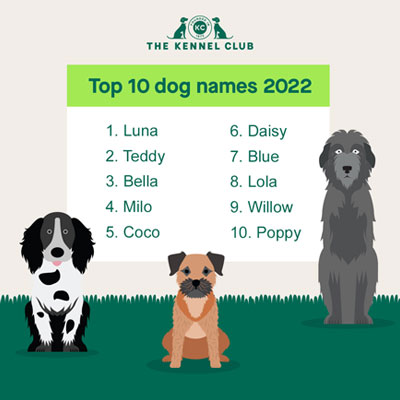 If you have recently brought a new dog or puppy into your life, or are expecting one soon, then you are probably going to need to find a name for them. Finding a name that sums up your new family member can often be a very hard yet fun job. Our Petlog data has presented us with 2022's most popular names to help inspire you.
Top tips on how to name your dog
Finding your newest family member can be a very long process and identifying their name can be an even longer journey. Our top tips are here to help you discover your dog's name.

The most popular names end in a vowel
Names ending in a vowel can often be easier for your dog to understand because they force you to change the tone of your voice. Our dogs rely on sounds to understand us and these sorts of names help them to pick out their names from other words that we say in our everyday conversations.

Avoid names that sound like commands
Teaching your dog commands is a fun part of having a pet. However, try to avoid choosing a name for your dog that sounds like a command, as this can cause confusion. For example, Bo and 'no' sound similar, which can lead to your dog not understanding the command.

Prevent yourself from picking a complicated-sounding name
Many people want to name their dog a unique name that's different from all the rest. However, make sure you consider how long the name is and if it will be simple for your dog to understand. For example, names such as 'Queen Tammy Tickle Toes' are too lengthy and often too much of a mouthful for you as an owner to say. If you do want this to be your dog's name, remember you might need to call it out loud in the park, so may want to shorten it, or use a nickname.

Try swapping between different names
If you are finding it hard to pick between a few names, try out each name on different days and see which one is the most fitting for your dog. You will find which name is easiest for you and suits your dog the most.

Find inspiration in your interests
Naming your dog after someone or something you like is always a great way to find a name, or at least may give you the inspiration to brainstorm some new name ideas. Picking out a character that you are fond of from either a TV series you enjoy or your favourite book, is always a great way to find fun and unique names that you will love.

Avoid giving an adult dog a new name
If you are getting/adopting a dog that already has a name it can be quite confusing for them to suddenly change. But if you still want to change their name, go with something that sounds similar so that the transition is a lot easier. For example, changing their name from Arianna to Brianna.

Double syllable names
Another top tip to make naming your dog easier is to choose a name with a double syllable, like a name that ends in a vowel, as it is easier for your dog to understand. Also, names with a double syllable are usually a lot easier to say.

Pick a name different from your other pets or family members to avoid confusion
To avoid any confusion for your dog and other family members, it may be easier to select a name that isn't similar to your other pet's or family member's names. For example, Jack and Jill may be fine, but Rob and Bob may be difficult for them to tell apart.

Practice calling out their name
This is a really important tip, as it will ensure that you feel comfortable with your choice of name, especially when practising your dog's recall. If you don't feel comfortable enough calling out their name in your garden, or over your local park, then it probably isn't the right fit for you.

Try to avoid controversial names, or names with negative connotations attached to them, as this would be inappropriate to call out and could result in confrontation from fellow dog walkers.

Consider your dog's personality
Finally, get to know your dog's personality before making a firm decision on their name, as it just might not be the right fit for them.

Use their personality for inspiration, for example, if they are curious, you could go with George (the monkey cartoon). These names will be able to tell a story about your pet.

2022's most popular dog names
1. Luna
2. Teddy
3. Bella
4. Milo
5. Coco
6. Daisy
7. Blue
8. Lola
9. Willow
10. Poppy