30/1/2023
Interview with Best in Show judge Stuart Mallard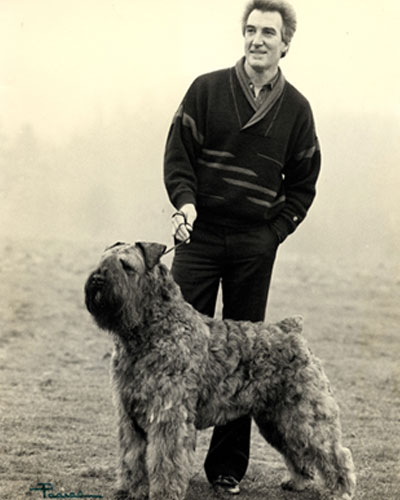 Crufts 2023 Best in Show judge Stuart Mallard
The below interview first appeared in the February 2023 Kennel Gazette. To read the full interview please visit The Kennel Club website to purchase your issue of The Kennel Gazette.
Combining a love of art with dogs
Talented artist and Crufts 2023 Best in Show judge Stuart Mallard is respected at home and abroad and has been involved in the world of pedigree dogs for many years here in the UK and on the continent.
Congratulations on your appointment at Crufts. You must be really looking forward to the big day?
I am, it's a great honour and I feel very fortunate. It is the greatest dog show and the shop window for pedigree dogs.
How many times have you officiated at the show before?
I've had the privilege to judge 32 breeds, the first being Old English Sheepdogs in 1993. In 2007-8 I judged the Pastoral and Working groups respectively. From the Working group I sent forward the Giant Schnauzer, Ch Jafrak Philippe Olivier, who went on to win Best in Show in 2008.
What attracted you to the breeds you have owned and shown?
I have always loved animals and kept various species and breeds since childhood. A school friend had a pet Old English Sheepdog that I adored. Later, when I was getting my first dog, it had to be an Old English Sheepdog. I imported a Bichon Frise from France (Vasti). She was in whelp and delivered a litter of four and so began my involvement with Bichons Frises.
Have you had any memorable wins?
Winning Best in Show at the Ladies' Kennel Association in 1974 with Ch Lameda Perfect Pal (Guy), an Old English Sheepdog; Ch Longdorhams Folly By George, also an Old English Sheepdog, won the Herders Honden (Pastoral) group at the Amsterdam Winner Show in 1982, I believe. Winning the first UK Challenge Certificate with Best of Breed in Bouviers at Crufts in 1988 under the late Bobby James with Ch King Elke van het Molengat at Tuckles was so exciting. My partner, Rod Oldham, and I had many memorable occasions making up Ch Tuckles Mighty Midge, a Tibetan Terrier.
You're an artist and your annual exhibitions are eagerly anticipated. What made you pursue this path and which artists are your greatest influence?
I've drawn or painted since childhood. My art teacher was replaced by a tall, beautiful young woman. We sort of formed a bond. One day she asked if I'd considered studying art, which I hadn't, but she planted the seed.
It's always interesting to hear what dog people have done in a professional capacity. Can you share this with us and has it helped in your judging career?
My life has been varied and full. I have owned a boarding kennel and for a short period was secretary of Beckenham Canine Association. The three constants have been, and are, my partner, the whole of the canine world and my art. Painting contributes hugely to my judging knowledge because I dissect everything under the surface but in a very detailed manner in my own time. Life in general, your experiences, the people you meet all have a bearing on who you are and how you judge.
Can you share a little-known fact about yourself with our readers?
Probably several! I'll share one – I was the lead singer in a rhythm and blues group called Stud Harvey and the Pentagrams.
This is an excerpt of an interview by Bill Moores with Stuart Mallard Crufts 2023 Best in Show judge. For the full interview please see the February Kennel Gazette.