5/2/2020
Interview with Clare Balding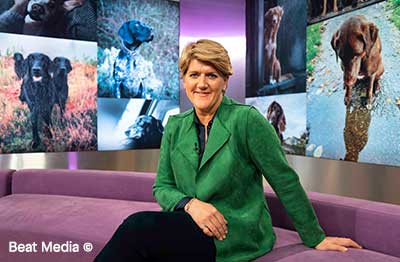 Clare Balding is returning to Crufts 2020 for her 12th year hosting the show's live coverage, broadcasting all the action in the lead up to the grand finale on Sunday.
Read on to find out what Clare thinks about Crufts myths, her favourite person to see at Crufts and what makes the world's greatest dog show so special to her.
Who would be your favourite person to see at Crufts?
Jessica Holm. She is so knowledgeable about dogs but also a really talented artist and so much fun to be around. I also love seeing the regular breeders who have been showing their dogs at Crufts for decades. 
What is it that makes Crufts so special to you?
I love being surrounded by dogs and dog lovers. It's also a never ending opportunity to learn more about all the different breeds. Every year I meet different people and dogs, find out something new, and discover some amazing veterinary breakthrough and I love that. 
Do you feel Crufts has changed since you started presenting and if so how?
It's certainly got bigger and it may be just because I'm getting older but the handlers seem a lot younger! I think the variety of activities in the main arena has increased and improved in quality and there is a hugely impressive amount of information you can discover about dogs. 
If you could dispel one myth about Crufts, what would it be?
That it's just a beauty parade. I would love to see a few tweaks to the Best in Show finale to show that the judge is also assessing health, fitness, confirmation and temperament. I think we could do so much to help educate the public and to deepen understanding about responsible breeding and handling. 
Have you a favourite moment throughout your time presenting Crufts?
Having puppies with me on the sofa is always a joy as you never know what's going to happen. If I can have a dog on my lap or at my feet for every link, I'm happy. I also enjoy exploring Discover Dogs, meeting dog lovers, finding out more from knowledgeable breeders and of course doing a little bit of shopping on the side. 
If you could compete in anything at Crufts what would it be?
Agility. Archie is probably a bit old for it now but I'd love to have a fitness target for him and me to aim at.