1/1/0001
Interview with Crufts Reserve Best in Show winner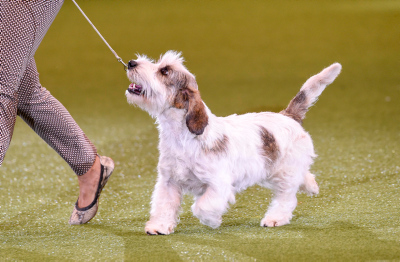 More than 22,000 dogs descended on Birmingham for Crufts 2019 and after four days of showing Mike the Petit Basset Griffon Vendeen took Reserve Best in Show. We caught up with Sara Robertson at home with Mike.
When and how did you get into dog showing?
I was seven years old when I first started showing dogs. I had a Rough Collie and it was suggested that I show it as my dad used to show dogs. I also joined the Young Kennel Club which was known as the Kennel Club Junior Organisation at the time.


Do you remember the first time you went to Crufts?
I can't remember the year but I remember it was at Earls Court. We all caught the National Express coach from Bracknell, Berkshire where I lived as a child.
Winning the group must have been special, how did it feel?
It felt so surreal. We came home very late on the Saturday night and the next day we went for a lovely walk before we returned to the show again.
Have you been in the group at Crufts before?
I got a best of breed in 2000 with a Smooth Collie and around three years ago I got into the group with our Petit Basset Griffon Vendeen called Trevor.
How did it feel when Dan chose you as Reserve?
Again it felt so surreal. Just to be in that ring is amazing so to get anything else is so special I was just in shock.
How did you celebrate?
As we won Reserve we were invited to the Chairman's after show dinner where we enjoyed quite a few drinks which ended very late. It wasn't until June when we were invited to dinner and it turned out to be a surprise dinner party with lots of our friends that we properly celebrated.
How has Mike done since Crufts
Mike has had a great year. He took Best in Show in Belfast which makes a total of 15 Best in Shows and has made him the all-time top winning hound!
Will you show Mike again at Crufts
One day we hope to but sadly we can't this year as our friend is judging and we don't think it would be fair to enter. But we will be showing our Jack Russells and our daughter will be showing our Petit Basset Griffon Vendeen, Judy Garland.