19/2/2020
Interview with Paige Jepson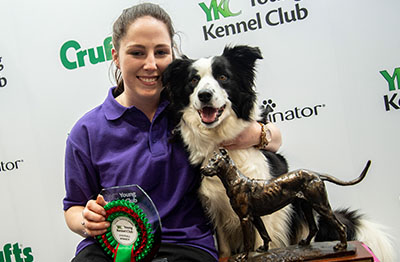 Last year, 22-year-old Paige Jepson from Staffordshire was awarded the Young Kennel Club (YKC) Young Person of the Year award during the final at Crufts 2019.
Having always loved dogs, Paige joined the Young Kennel Club over twelve years ago and was shortlisted for the award after winning the Good Buddy of the Year category.
A year on, Paige talks to us about her incredible achievement.
How did it feel to win the YKC Outstanding Young Person award last year?
I was amazed that I was nominated for Good Buddy of the Year, let alone being voted Young KenneI Club Overall Young Person of the Year and I was completely overwhelmed by the amount of people who voted for me. I was awarded prize money donated by The Kennel Club Educational Trust which I will be using to attend a canine massage course and a canine first aid course. By attending these courses, I will gain further skills and knowledge which will support my future career in dogs.  To be awarded the Shaun McAlpine Memorial Trophy at a fantastic dog show such as Crufts is just phenomenal, and such an honour, making 2019 a year I will never forget. 
What was your favourite thing about your Crufts experience last year?
By far winning this amazing award was my favourite moment. I will never forget when my name was announced. I just burst out crying with happiness and hugged my dog! I enjoy all four days of Crufts as I volunteer on the YKC ring party team and competed with two of my dogs which I enjoy every minuet of doing.
How long have you been involved with the Young Kennel Club?
I have been involved with the YKC for 12 years now. I first joined when I got my first Border Collie 12 years ago. I attended many training weekends and days along with camp. I loved every minute of these days which is part of the reason I am so passionate about dogs and training today. Because of all my memories I have gained I am very supportive of younger members in the canine world and would like to give them the same experience I had when I was a younger new member.
What is your favourite thing about the Young Kennel Club?
Attending all the training weekends when I was younger was amazing. I enjoy helping out and volunteering at all of the YKC events including Crufts, Newark activity weekend and this year CAMP! I love passing on my knowledge to younger passionate members of the YKC and encourage them into obedience along with watching them grow over the years.
Outside of winning last year's award, what's been your best achievement with the Young Kennel Club to date?
In 2016 I won the YKC Kennel Club Good Citizen Dog Scheme obedience finals with my oldest dog, Poppy.  I was so happy as I had put so much work into training her for this event and it really did pay off.  In Crufts 2015 I won runner up of the year for Groomer of the Year with my Poppy too. This was again such a memorable moment for me.
Are you coming to Crufts this year? If so, what are you competing in?
 I am attending this year with three dogs which I am really excited about. We are competing in the YKC grooming, over 18 Groom through, and YKC handling, 18-24 working and pastoral with my Bearded Collie, Puzzle. I am then competing in Basic obedience with my Border Collie Floss. Pebbles my youngest Border Collie will be competing in the YKC novice obedience, YKC KCGCDS finals and Starters HTM. It will be our first time doing HTM at Crufts.
What advice would you give this year's finalists?
To enjoy every minute of it! It's such a once in a lifetime opportunity so enjoy it while it lasts. The money helped me support me in my dog training career and the award has encouraged me to carry on to support YKC members and encourage younger members to try out all of the disciplines. Crufts 2019 will never be forgotten.
To find out more about this year's category winners and to vote for the overall winner, please visit here. 
The winner will be announced at Crufts 2020 on Sunday 8th March during a special presentation ceremony.