26/2/2020
Interview with Paul Manktelow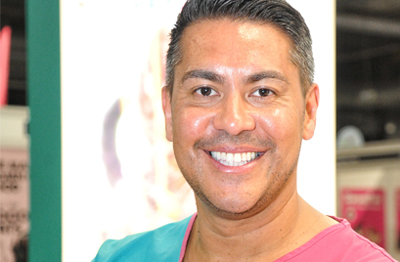 Paul Manktelow, PDSA Principal vet, will be joining the presenting team at Crufts this year.
We caught up with Paul to find out what he was most looking forward to at Crufts 2020.
What are you most excited about being part of Crufts?
Dogs are one of my favourite species of animal, so being surrounded by them at a huge event like Crufts is always going to be a joy. This year it's really exciting for me to be part of the Crufts presenting team and I'm looking forward to seeing all the action behind the scenes. My other favourite species are dolphins but I'm not expecting to see any of them at the show!
Have you watched or been to Crufts before?
I've been to Crufts many times, both as a dog owner, but more recently in my role as a vet at PDSA where we did a series of talks and demonstrations on pet first aid. It was great teaching dog owners some emergency techniques which you know will go on to save lives.  
What is your favourite breed of dog and why?
I love the fact that dogs come in all shapes and sizes so it's really hard to single out a favourite breed. I guess if I had top breeds in a 'work, rest and play' situation then at work as a vet I always like to see the Labs as they are pretty chilled out and friendly as patients. In a home situation, I think I'd go for a Border terrier as I just love their facial expressions, they remind me of grumpy old men!  In the park at playtime, nothing beats an excited Spaniel, they can seriously wiggle when they are having fun!
If you were a dog breed what would you be and why?
Well my grandmother was from Tibet so perhaps I should be a Tibetan Terrier! I'm not sure if I resemble that breed at all though especially since I've just shaved my head!  Perhaps I'll have to grow my hair long this year to fit in!
What are you most looking forward to seeing at Crufts?
Dogs, dogs, dogs! It's amazing to see so many different shapes, sizes and personalities all in one place. It's also really interesting speaking to people that are so passionate about dogs and their welfare, and who have dedicated their lives to them.  
What is your favourite dog activity, i.e. agility, flyball etc…?
Flyball is so exciting to watch and the standard that you see at Crufts is amazing.  I love the fact that it's a team sport and the dogs absolutely love it – and a bonus is that it's great exercise too!  
Do you have dogs / have you had dogs?
I've had dogs all my life but I lost my last dog two years ago. Dolly was officially (according to me) the best dog in the world so it's taken me a long time to be ready for another one.  2020 is definitely the year though and I'm looking forward to checking out the different breeds in Discover Dogs for inspiration.
What do you like most about working for PDSA?
Working for PDSA is incredibly rewarding as you aren't just helping pets but you are also helping people too. I couldn't ever imagine having to give up a pet because I'd fallen on hard times so it's amazing to be that lifeline that keeps people and pets together.
Who are you most looking forward to seeing at Crufts?
I always love meeting the 'hero dogs' who have done inspiring things to help the lives of people. I'll also be definitely swinging by Hall 3 to see my PDSA team in action who are here again this year demonstrating life-saving pet first aid techniques that every dog owner should know and will be on hand to answer any questions visitors have about their pets.
PDSA has a pet first aid guide dog owners can download for FREE here https://www.pdsa.org.uk/firstaidguide