11/2/2020
Interview with Radzi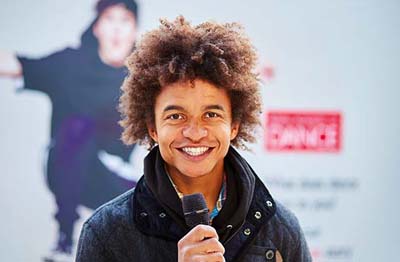 Radzi first reported at Crufts for More 4/Channel 4 in 2018, celebrating his third year at the show. We caught up with him to find out what some of his highlights from the show are and what he is looking forward to this year.
What is your favourite bit about Crufts?
My favourite bit about Crufts has to be that thousands of people, all descend on one building in Birmingham - every single year, because they ALL love dogs.
What is it that makes Crufts so special to you?
Crufts is a British institution which celebrates man's best friend. But seeing how passionate the Kennel Club is about dogs, is fantastic! 
Do you have a favourite breed of dog?
The first dog I loved was a special Welsh Sheepdog called Paddy, so I have a bit of a soft spot for them.
What were you most surprised about when you presented Crufts in 2018?
I was genuinely taken by surprise with the sheer scale of the show. The amount of dogs, the variety of the breeds, the closeness of the dog communities and the pride of all the owners.
What has been your favourite moment at Crufts:
Last year I met this incredible Border Collie called Scaffie. Scaffie, out of all the dogs I've ever met was possibly the most intelligent, alert and responsive. Scaffie won the dancing competition and we had him in the studio performing his routine on the television, while he was watching his performance on the TV. It was so special watching him watch himself perform on the screen. His owner told us that when he watches films in the sad parts he will cry and in the happy moments he will bark. He was such a special dog and it was a really special moment for me to meet him. 
What is your favourite thing to see:
The Friends for Life competition – the stories are just the most inspirational and incredible that you're ever likely to hear. Last year's winner Finn was such a hero. Finn the police dog saved his owner, Dave Wardell's life after a vicious attack. Which reminds us that whether it's the story of Finn or the other many, many dogs, the importance of the relationship that dogs have with their owners and indeed the many other humans that they come into contact with. It's the thing that makes me leave with a big smile on the face and whenever I think of Crufts, I always think of the power of dogs and that is what Friends for Life personifies.
Who would you most like to see at Crufts?
That's a real tough one! I love being reunited with the Crufts family who all work so hard and who I love to see at the show. They are all fantastic but sadly I only see them once a year at Crufts.
However, if I was going to throw in a curveball I would have to say the WWE wrestlers – mainly because I also work for the wrestling company! Many of the wrestlers are dog lovers so the image of seeing them all, oiled up and in spandex walking a dog would be a sight! 
If you were a dog what would you be?
I would be a Labrador, because who doesn't love a Labrador!? Every time you see one, you have to fuss over it. So I'd love to basically walk through any town, city or village and know that every single person that sees me will give me a big smile, a treat and make a big old fuss. What's more if I'm feeling a bit mischievous, after I've committed any tiny crime then I'd be forgiven because who can't give in to a Labradors face?
Had you watched Crufts on the TV before?
Who hasn't watched it before???