28/1/2020
Interview with Scruffts winner 2019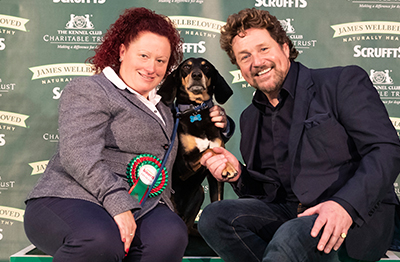 The Scruffts Family Crossbreed Dog of the Year competition, exclusively supported by pet food makers James Wellbeloved, is the nation's favourite crossbreed competition.
Amanda Bell won the final of Scruffts at Crufts 2019, alongside her best friend Percy, a Pointer cross. She tells us more about Percy and their experience with winning Scruffts.
Could you tell us a bit about Percy and how he came into your life?
Percy is a rescue dog from Cyprus and when I saw him he was gravely ill, he had only just been found, weighing just 9kg. We believe he was badly abused and also shot several times. His kidneys were failing and the rescuers didn't think he had much chance of surviving but they gave him a chance anyway.
I decided that if he survived and became well enough to fly then I would take him. Luckily he did, when he arrived he was so scared and still very thin but his kidneys were functioning much better - he still has a kidney diet and daily medication but he is thriving. 
What made you decide to enter Scruffts with Percy?
I show my other dogs but I feel my crossbreed rescues are just as important so I wanted them to have a chance too. I entered Scruffts originally with my previous dog Fred and he got to the semi-finals three years running. We entered Percy in a heat in Scotland; I was showing my other dogs at the show and the Scruffts heat was outside so I felt Percy would be happy in that situation. We entered the Best Crossbreed Rescue class, I think there were about 30 other dogs competing and we won!
How did it feel to win the final at Crufts last year?
It was literally the best moment of my life. I was so proud of Percy, he won it himself with his story and his personality.
What was your favourite thing about the Scruffts experience?
Running back out of the ring after winning and Percy not only being ok with the situation in the big arena but his tail was wagging away.
What advice would you give someone thinking about entering Scruffts this year?
Enjoy the time with your dog, it's lovely to win but even if you don't it's a nice day out for you and your dog. Don't take it seriously, just enjoy it.
And finally, what's your favourite thing about Percy?
His attitude to life and the fact that he has overcome his fears to become a very happy and confident dog.
Find out more about taking part in next years competition here.