7/3/2022
Meet some of Crufts remarkable dogs and owners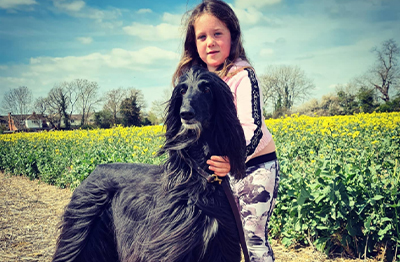 Amanda, Luna and D'hari – beginning their journey to Best in Show on Friday

Amanda, 36, her daughter Luna, seven, and D'hari, their five-year-old Afghan Hound are taking stage
at Crufts on Friday to compete in showing, hoping to take one step closer to the prestigious 'Best in
Show' 2022 title.

Outside the ring, D'hari and the Collins family have been together through thick and thin during a
tragic and emotional time in all their lives. Amanda sadly lost her partner Jamie in 2016, after he lost
his six month fight to clear cell sarcoma. Amanda and Jamie shared four years together, and had
their daughter Luna before Jamie was diagnosed with this aggressive form of cancer.

During the extremely difficult period of time when Jamie was in hospital under treatment, Amanda
and their two-year-old daughter Luna decided to adopt a puppy, D'hari. The unique and unbreakable
bond of canine companionship that D'hari brought was a lifeline to the whole family and Amanda
shared that she wouldn't be here today without D'hari who "100% saved my life".

D'hari gave Amanda purpose again in life and a reason to get out of bed every day, keep fighting and
became a way for her to 'overcome the stress and heartbreak' of losing Jamie. D'hari displayed high
emotional intelligence throughout the grieving processes, helping Amanda physically though lying on
her body or resting her head on Amanda's lap which helped calm Amanda, who explained D'hari
"sensed when I needed her and when I wanted to be left alone". D'hari has even gone on to help
Amanda with longer term issues due to suffering with PTSD following a young career in the army. In
a reverse of common roles, D'hari helps Amanda through the difficulties of everyday triggering
events like firework night.

As an ambitious family, Amanda and Luna were keen display the many talents of D'hari and
celebrate their four-legged best friend at Crufts 2022. Seven-year-old Luna will be leading D'hari into
the ring on Friday as a Young Kennel Club competitor, making her whole family proud and with many more shows likely in the future.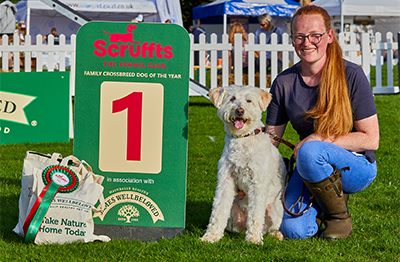 Emily and Arthur – a rescue dog who has overcome the odds and will be competing for the crown of Golden Oldie in the Scruffts competition on Saturday

Emily, 25, a vet from Harrogate in North Yorkshire, and Arthur, her 12-year-old Romanian rescue dog
who she saved from a kill shelter, are making their debut in the semi-finals of the family favourite
Scruffts competition. Proving you're never to old to try something new, Arthur will be competing
with the other senior dogs in the Golden Oldies category.

Arthur has not had an easy life, having spent the majority of his life living on the streets in Romania
up until being rescued by Emily four years ago, however, he has been thriving ever since. Arthur and
Emily attended numerus dog training classes and assessments, and have together proudly achieved
the Good Citizen Dog Scheme Bronze Award.

Outside the ring Arthur shines as a registered PAT dog, supported by the Pets as Therapy charity.
Arthur and Emily have spent their time going to local nursing homes to visit the residents and
provide them with the unique love, attention and cuddles that a furry friend can provide (which was
of course was very welcomingly received and returned!) Unfortunately the pandemic meant that Arthur and Emily had to pause on their much-loved time in the care homes and trade in for the fresh
air hiking through the Yorkshire Dales, however, they hope to be back at it soon.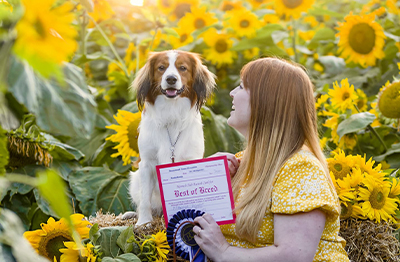 Carly and Sora – Competing for Best in Show for the first time, having made lots of new friends through competing in dog showing

Carly, from Southampton, and Sora, her Kooikerhondje will be trying for Best in Show for the first
time on Saturday. While not Carly's first Crufts, having previously volunteered in the Discover Dogs
area, it will be herself and Sora's first time on the other side of the ring!

Coming from a sporty family, Carly had never expected to find herself in the world of dog sports.
However, on meeting the breed club members and sensing a determination in Sora, Carly decided to
give showing a go.

Carly and Sora quickly fell in love with practicing the new skill after their first one-to-one session,
however, afterwards they were immediately forced indoors with the UK being put into lockdown.
During a scary and anxious time for the whole world, Carly and Sora were glad to have a focus and
distraction to help them through the tough times and resulted in qualifying for Crufts in 2021.

Coming out of the isolation of the pandemic lockdowns, Carly is now reaping the numerous social
benefits of being involved in canine activities. Carly has bonded with those that share her hobby
saying: "Showing has given me a new hobby, and introduced me to a fantastic community of people
who have been so welcoming and supportive, and that I now call my friends."