16/2/2022
Top training tips from Good Citizen Dog Training scheme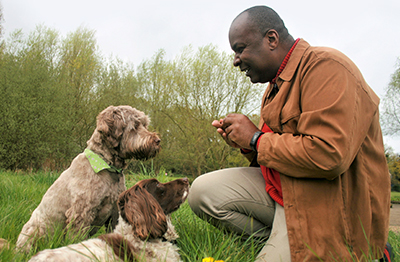 If you are visiting Crufts this year, make sure you pop along to the Good Citizen Dog Training scheme ring in Hall 3 to meet dog trainer and behaviourist Rob Alleyne.
Robert joined his first pet class in 1981 aged 18. By 1984 he was competing successfully at obedience shows and attending training classes four-five nights a week, and by 1986 he was running his own dog training club. Robert ran his own dog training classes from 1986-2021, training thousands of dogs and their owners. He now runs five-day residential instructors courses, teaching others how to teach companion dog training in a fun and practical way, and also how to address training and behavioural issues. He gives talks at a variety of functions, from private parties, to other dog training establishments, to colleges and universities. He has made numerous appearances on radio and television programmes and was the behavioural trainer on the hugely popular BBC series Dog Borstal.
Rob gives us some top training tips below:
Teach your dog to relax in the house. The majority of dogs I have to help with cannot control their arousal levels, partly because owners are encouraged to keep dogs stimulated even indoors. Not surprisingly, by the time they are adult, they are driving their owners crazy.
Make sure that the rewards that you offer your dog are what the dog would consider 'good pay' in that specific scenario. Offering bland treats for recall may not be attractive enough to make the dog come back.
Encourage your dog to be social with the people that you know. Everyone else is a stranger, and your dog doesn't need to talk to strangers. Your child was encouraged not to talk or interact with strangers, but they still grew up to be social. I do the same with my dogs.
So many dogs have developed excessive separation anxiety since Covid, since a lot more people are at home all day. So even when you are still at home, it is a good idea to separate yourself from the dog for periods, so it learns to cope with some time on its own.
To read more about Rob at Crufts get your copy of the Crufts showguide on the Crufts website or pop along to Crufts and meet him for yourself!