This annual competition began in 1998, and is specifically for Junior Warrant winners to compete against each other for the coveted title of 'The Kennel Club Junior Warrant Winner of the Year' award.
Each year, there is a series of qualifying heats at Open Shows held by General Canine Societies around the country, during June, July and August.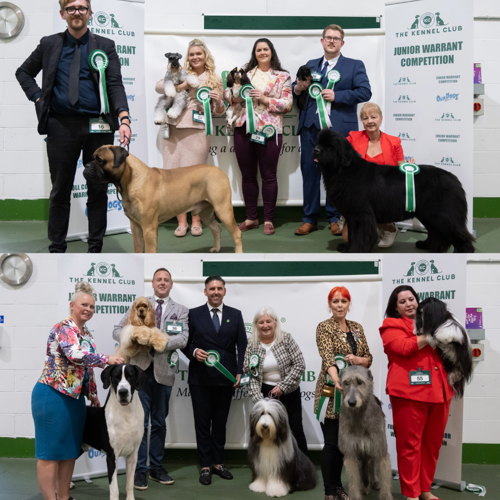 Below are those who have qualified for the Junior Warrant final, taking place on Thursday 7 March at Crufts.
Beachdax queen of hearts (JW), Dachshund (Miniature Smooth Haired) Miss L M B & Messrs L J B and A B Beach
Emsuart Rocketman (JW), Bullmastiff, Miss E A Beal
Saskinbears True Blue For Safeharbour (JW), Newfoundland, Mrs K Thompson
Ch Penbro Talk Of The Town (JW), Miniature Schnauzer, Misses R L & L M Woods
Ch Baldragon Centre Stage With Khatibi (JW), King Charles Spaniel, Miss L Tarabad & Mr J Whitman
Sh Ch Afterglow Bamalam With Alibama (JW), Spaniel (American Cocker), Mr D Jennings
Ch Gaelmarque Treasured By Goldswift (JW), Irish Wolfhound, Dr C T & Mrs C E Sheppard
Farmarens Like A Circus For Kiltondale (IMP SWE) (JW), Bearded Collie, Mrs L & Mr G Peirson
Tamzdane Empower Mint (JW), Great Dane, Mrs L & Miss T Pocock
Crystal Eye's Wam Bam Boom At Khumbila (IMP DNK) (JW), Lhasa Apso, Miss R Revillas Rodriguez
2024 heats are are being finalised and will be released shortly on this page.