25/2/2022
Crufts in numbers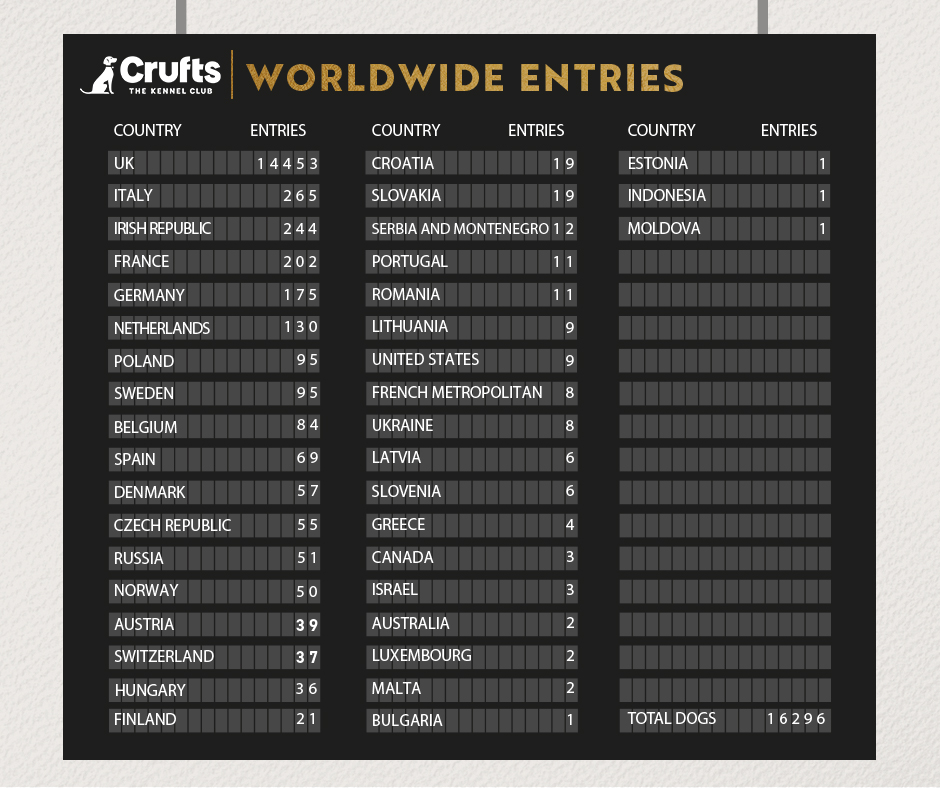 20,000 – dogs expected at Crufts across the four days of the show, from 10-13 March

222 – different breeds of dogs can compete for the prestigious Best in Show title

3 – breeds will be making history at Crufts 2022. The Hungarian Pumi will have its own classes for the first time; the Smooth Faced Pyrenean Sheepdog will make their debut at the show; and the historic Harrier will be making its first appearance in the Crufts breed ring since 1898!
150 – Around 150 breeds will be represented in the Discover Dogs area of the show, where visitors can meet and greet their favourite breeds and find out which ones might be a good match for their lifestyle
1891 – The year Crufts began

118th – This year is the 118th year of Crufts (that's 826 years for our furry, fourlegged friends)

1,843 – The number of dogs from overseas entered into the show this year
Over 5,000 – The number of people volunteering at Crufts 2022 from stewards to breed experts in the Discover Dogs area Hundreds of crossbreeds take part in Crufts, through agility, flyball, obedience, heelwork to music, Scruffts and The Kennel Club Hero Dog Award competitions.

83 – The number of years the Best in Show prize has been awarded.

7 – The number of times a Cocker Spaniel has won Best in Show – more than any other breed. This is followed by the Irish Setter, Standard Poodle and Welsh Terrier
which have won on four occasions each
25 – The number of acres of the NEC in Birmingham that Crufts covers. This includes five halls, and the Crufts Best in Show Arena

4 – The number of venues in which Crufts has been held over the years

9 years 7 months – the oldest dog to win Best in Show, which was a Flat Coated Retriever in 2011

38 – The total number of countries with dogs entered into Crufts this year

1 – The number of dogs that have pooped live on TV in the main arena at Crufts
during Best in Show!