5/3/2020
Bichon Frisé from Lancashire wins place in Crufts Best in Show final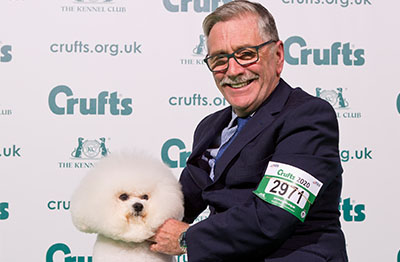 Pablo, a Bichon Frisé originally from Spain and now living with his owners in Preston, Lancashire won the Toy Group title at Crufts 2020 today (Thursday 5th March), qualifying him for a place in the Best in Show final on Sunday evening.
Pablo (Ch Regina Bichon You Rock My World At Pamplona), two years old, will return to the Resorts World Arena at the NEC in Birmingham for a place in the final at the world's greatest dog show, Crufts, with his handler Michael Coad, who co-owns Pablo with Rich Smith.
Michael Coad has previously handled a number of successful dogs, including the Crufts 2000 Best in Show winner Mike, a Kerry Blue Terrier.
People around the world will be watching to see which dog is crowned Best in Show on Sunday evening as the final is shown live on Channel 4 and streamed on the official Crufts YouTube Channel - www.youtube.com/crufts.
Almost 20,000 dogs are competing over the four days for one of seven places in the Crufts final and a chance to win the most celebrated title in the world of dogs.
Michael said: "I'm thrilled, I'm over the moon, I'm very very happy. He got the best of breed here last year as well, and it's twenty years since the Kerry Blue!
"Pablo has a fabulous personality and he loves to show and he never ever lets us down. Every win is great, every win is a buzz."
Vanessa McAlpine, Crufts Show Secretary, said: "We are delighted to see Pablo, the Toy Group winner today. Both Pablo and Michael should be very proud of reaching the prestigious Best in Show final – it's an incredible achievement and one that not many get to experience in their lifetime.
"Crufts celebrates healthy, happy dogs and recognises the special and unique bond between dogs and their owners. Pablo and Michael clearly have a very strong bond and their shared confidence in the show ring impressed the judges.
"The final on Sunday evening is set to be very exciting and we want to wish them the best of luck."
For more information, visit www.crufts.org.uk. The results for Crufts 2020 can be found online at http://crufts.fossedata.co.uk. For free downloadable images from Crufts 2020, please go to www.flick.media/crufts_2020/.