15/3/2023
Heroic Search and Rescue dogs involved in Turkey earthquake mission honoured at Crufts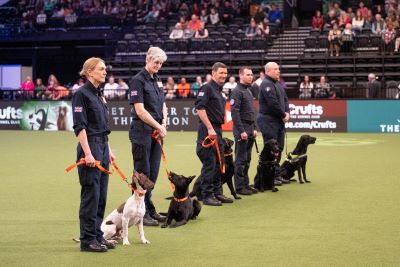 The heroic teams from UK International Search and Rescue (UK ISAR) and K9 Search & Rescue NI who were involved with the Turkey earthquake search and rescue mission were recognised for their bravery and dedication at Crufts, in the main arena, on Sunday (12 March) with a special award from The Kennel Club, presented by Chairman Tony Allcock OBE. These teams worked to save lives following the horrific earthquake which devastated Turkey and Syria last month. 
Pictured (from left) are: USAR Search Dog Davey and handler Lindsay Sielski, USAR Search Dog Vesper and handler Niamh Darcy, USAR Search Dog Sid and handler Jon Hardman, and Ryan Gray and Kyle Murray and their Urban Search and Rescue Search Dogs Max and Delta, from K9 Search and Rescue NI.
K9 Search and Rescue are a professional all-volunteer canine Search and Rescue team, based in Bangor, Northern Ireland. All handlers are volunteers who provide their own dogs and train several times a month. They pay all related expenses for feeding, veterinary care, travel, and purchase of needed equipment.
The UK ISAR team is the search and rescue team deployed by the Government on behalf of the UK Foreign and Commonwealth Office, at the request of UK and International Aid. They are a team of 77 strong personnel made up of 14 Fire and Rescue Services and supported by a medical team, a vet and a structural engineer – and the Urban Search and Rescue Search Dogs.