6/3/2020
Sussex Spaniel 'talent spotted' in Suffolk park crowned UK's top vulnerable Breed at Crufts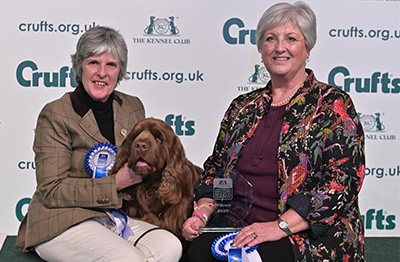 Wilbur, a Sussex Spaniel owned by Susan and John Evans from Bury St Edmunds, Suffolk,and handled by Becky Johnson, has won the grand final of the Kennel Club Vulnerable British and Irish Breeds competition at Crufts on Thursday, 5th March.
Wilbur (Sh Ch Yorkham Rocking Rudolph ShCEx), five years old, and Becky won the Vulnerable British and Irish Breeds competition in front of a packed Resorts World Arena at the NEC in Birmingham.
Wilbur was 'talent spotted' by Becky whilst he was out on a walk with his owner John. Becky, an experienced exhibitor herself with Flat-Coated Retrievers, was impressed by Wilbur and helped introduce the pair into the world of dog showing. Little by little, Wilbur made his way to the top by becoming winning a Challenge Certificate at last year's Crufts and returning this year to claim the top prize in the Vulnerable Breeds competition.
The Kennel Club Vulnerable British and Irish Breeds competition helps raise awareness of rare native breeds whose annual puppy registrations stand at fewer than 300, thus leaving them at risk from disappearing from the UK's streets and parks.  
Sussex Spaniels are the rarest of the land spaniels and were the most vulnerable breed in the UK in 2018 when only 34 puppies were registered with the Kennel Club. They have since experienced a boost in popularity, with 52 Sussex Spaniel puppies registered in 2019.
Owner Susan Evans commented on Wilbur's win: "I am absolutely over the moon. It is amazing for his breed to win competition like this, I am very proud. He makes me smile and laugh every day. He is very laid-back and relaxed dog but he enjoys showing very much.
"After my sister died, I was a bit down in the dumps, but now I go to shows with Becky and I absolutely love it. I really don't care if Wilbur wins or loses – we always have a great time regardless at the shows.
"It is very important for his breed and other vulnerable breeds to be shown at Crufts for people to realise how many amazing breeds are out there."
Wilbur was chosen by judge Jeff Horswell as having the best overall quality evident from others dogs in the final.
The Vulnerable Breeds competition, which was open to all vulnerable breeds competing at designated championship shows, enabled dogs that are on the Kennel Club's vulnerable breeds list to collect points to qualify them for the final at Crufts.
Ch Faynad Frankincense owned by Mr G Zadeh was named as Reserve Best Vulnerable Breed.
Vanessa McAlpine, Crufts Show Manager, said: "Congratulations to Wilbur and Becky as well as Susan and John Evans on this fantastic achievement. We are very thankful to everyone who has collected points for this competition for their dedication and passion for their breeds; their commitment is a true testament to their hard work ensuring that these vulnerable British and Irish breeds continue to be a part of our society."
More information on the vulnerable British and Irish breeds can be found on the Kennel Club website at www.thekennelclub.org.uk/getting-a-dog-or-puppy/finding-the-right-dog/vulnerable-native-breeds/ or email breedshows@thekennelclub.org.uk.
For more information, visit www.crufts.org.uk. The results for Crufts 2020 can be found online at http://crufts.fossedata.co.uk/. For free downloadable images from Crufts 2020, please go to www.flick.media/crufts_2020/
  The other 2020 finalists were:
English Toy Terrier, Messrs N Gourley and A Leonard's Ch Witchstone Minnehaha
King Charles Spaniel, Mr RG & Mrs KM Stewart's CH Marchog Macflannelette
English Setter, Mrs L Taylor's Wansleydale Margarita
Gordon Setter, Mr WH McAvoy's Laurelhach Bemm
Irish Red and White Setter, Mr DS & Mrs VA Wade's Sh Ch Ballakinnish Malachi At Oldestone
Curly Coated Retriever, Mr J & Mrs MB Stephens' Sh Ch Brightmeadow Never Say Die JW ShCM
Clumber Spaniel, Mrs LJ Thorogood's Sh Ch Winhampton Over The Yardarm Of Harrifield JW ShCm
Field Spaniel, Ms JM Harris's Kingsmist Panther
Irish Water Spaniel, Mrs JL Carruthers' Sh Ch Gloi Donn All Or Nothing At Stanegate
Mastiff, Mr G Zadeh's, Ch Faynad Frankincense
Bearded Collie, Mrs B Cope's Ch/Fra Ch Miss Dior De Chester At Menander (Imp Fra)
Smooth Collie, Mr A & Mrs G Loader's Ch Coneypark Countdown For Allangill
Lancashire Heeler, Mrs L Jones' Ch Madincrowd Gabriel JW
Cardigan Welsh Corgi, Mr P Clifton's Ch Joseter Frazer Nash
Miniature Bull Terrier, Misses V Hearne & M Singleton & Mrs L & Mr D Catilina's Ch Dofro Stormbreaker Warbonnet (A.I.)
Dandie Dinmont Terrier, Mesdames B Deacon & J Hill's Ch Cassencarrie Choirmaster
Smooth Fox Terrier, Mr FW Schoeneberg's Ch Wanda VD Schoenen Bergen (ATCAV00805DEU)
Glen of Imaal Terrier, Miss A Hannington's Ch Boudivella Osca
Kerry Blue Terrier, Miss P Seddon & Mr J Butler's Ch Lemracdream Donatello
Lakeland Terrier, Ms J Vickers & Mr R Punter's Eskwyre Red Devil
Manchester Terrier, Mrs JA & Mr A Goodwin, Ch Digelsea Date Night at Holtaire
Norwich Terrier, Mrs L Crawley & Mr M Oddie's Ch Ragus The Jumping Jack
Sealyham Terrier, Mr L & Mrs D Bettis, Ch Ornella Country Living ShCM ShCEx
Skye Terrier, Miss GC Grainger's Whicheeta Celtic Connection VW
Bloodhound, Mesdames S Emrys-Jones & T Howie's Ch Marksbury Hessie
Deerhound, Mr G & Mrs NB Bailey's  Ch Greyflax Lady Sings The Blu's
Irish Wolfhound, Mr C & Mrs J Amoo's Sade Rainbow
Otterhound, Miss M Lerego & Mr S & Mrs A & Miss E Smith's Ch Teckelgarth Maximus